If you're trying to build a low-end to midrange gaming PC or workstation with inexpensive but modern parts, it has been hard to recommend AMD's Ryzen 7000-series processors. That's partly because Intel's CPUs have offered more cores for similar money, but motherboards with AMD's socket AM5 have remained stubbornly expensive, and their lack of support for DDR4 memory means you'll pay more to get DDR5 RAM.
That may change somewhat thanks to the new entry-level AMD A620 chipset, which the company quietly announced last week. AMD says it should bring the prices of AM5-based motherboards down to around $85, not far north of what low-end Intel-based H610 and B660 motherboards cost, though they'll still require DDR5 (for the DDR5-6000 that AMD recommends for optimal Ryzen performance, the price premium is still not quite double what you'll pay for the same amount of DDR4-3200).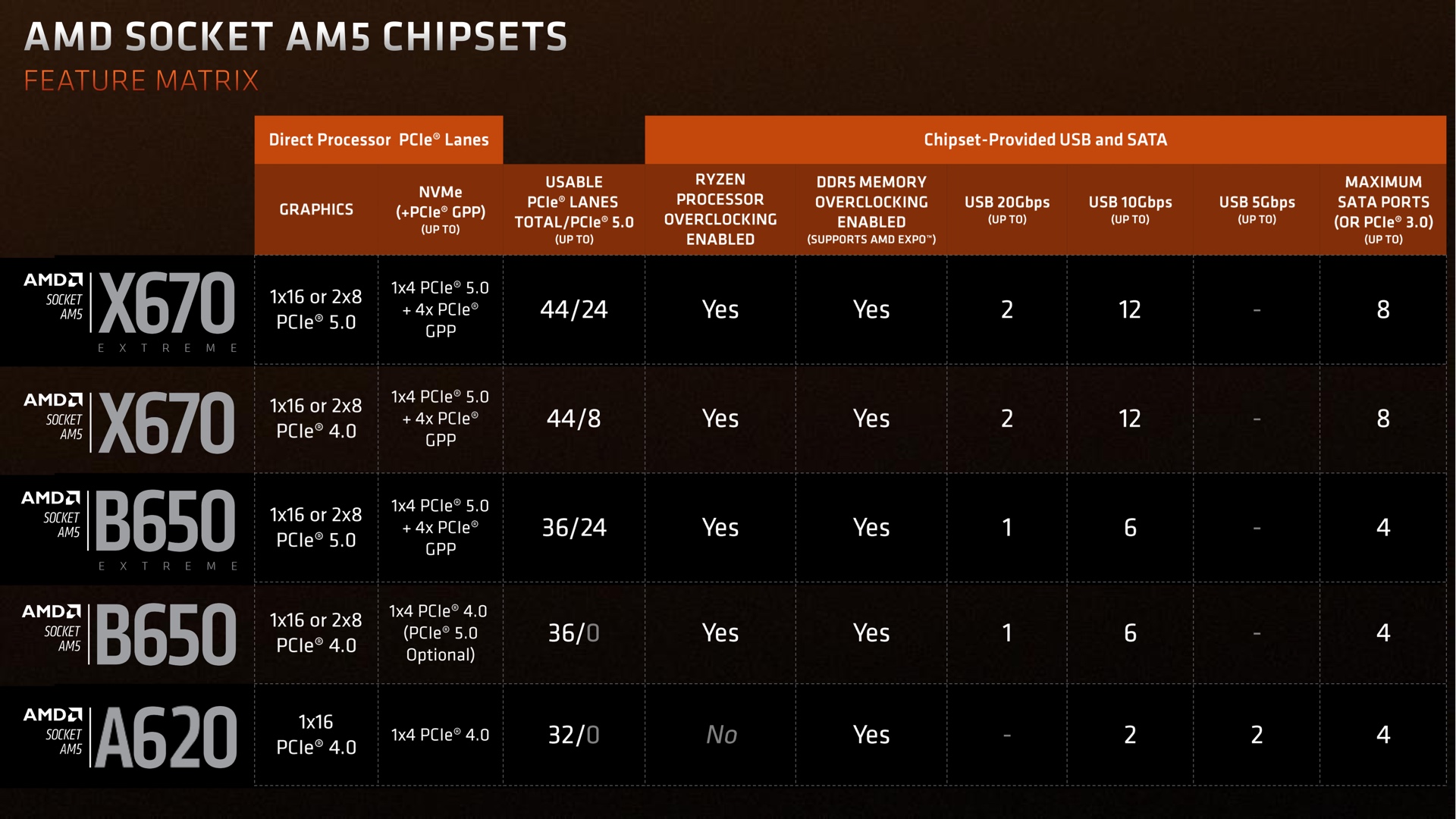 Compared to X670 and B650-based motherboards, A620 chipsets will have more limited connectivity. There's no PCI Express 5.0 support at all for either graphics cards or SSDs—not a huge blow since no GPUs and few SSDs support PCIe 5.0 at this point anyway, but a step back for future-proofing. The processor will still provide enough PCIe 4.0 lanes for a GPU and a single SSD, but the chipset only supports PCIe 3.0 speeds for additional SSDs. The chipset also supports fewer USB ports overall and no 20Gbps USB ports.
Perhaps more significantly, A620 chipsets don't support any kind of processor overclocking, nor do they support the Precision Boost Overdrive (PBO) or Curve Optimizer features for automated overclocking or undervolting. This is consistent with past AMD A-series chipsets and non-Z-series Intel chipsets, which have also limited their support for overclocking features. AMD says that memory overclocking will still be supported by "most [motherboard] models."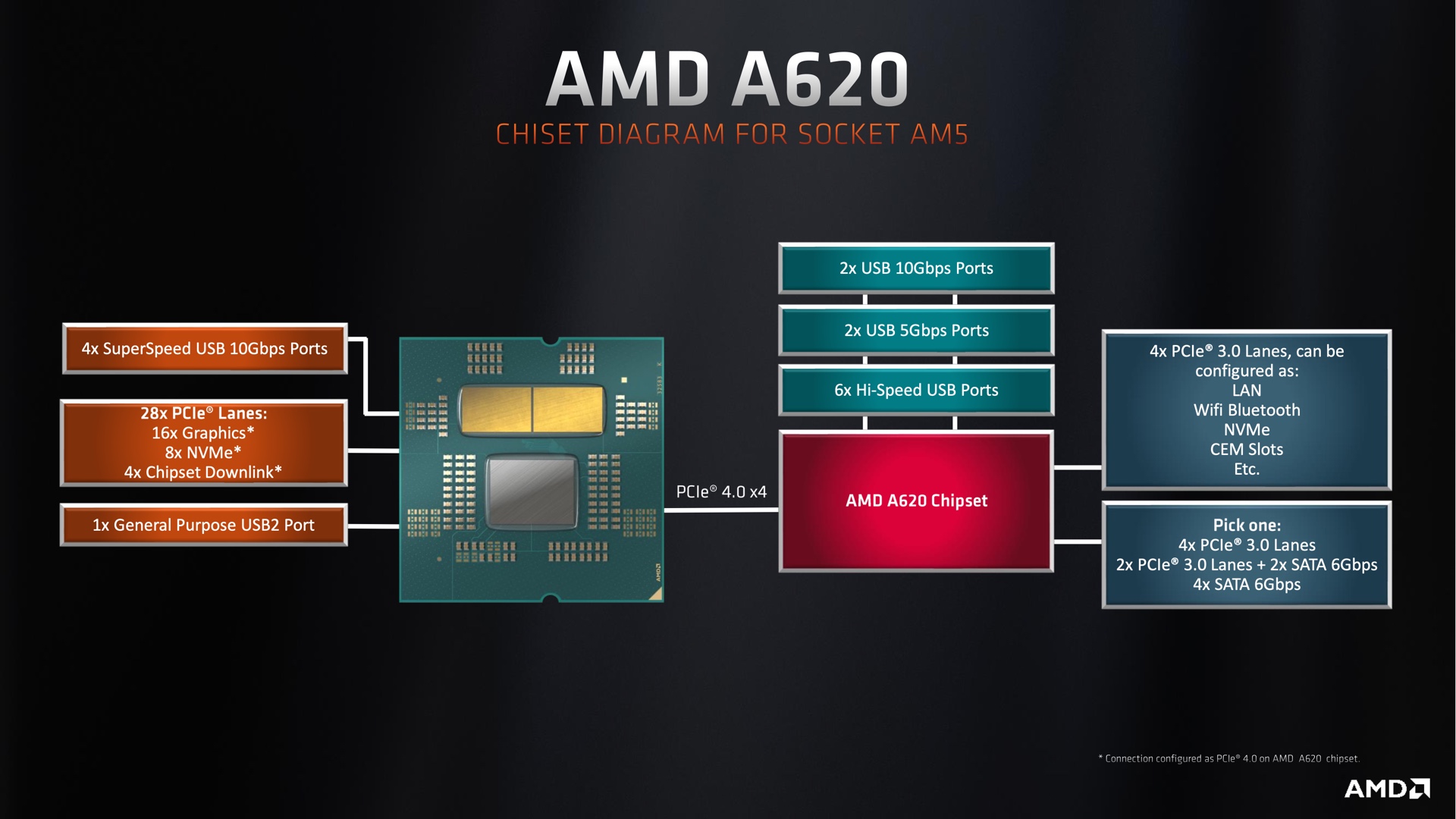 These boards will be the best choice for someone who wants to buy a regular-old Ryzen 7600, 7700, or 7900 processor, install it, and use it without much tweaking. AMD says that higher-wattage Ryzen chips like the X or X3D series will work as long as the motherboard's BIOS supports them but that their peak performance may be held back by lower-end voltage regulator modules (VRMs).
Case in point: ASRock offers two of the earliest A620 motherboards, the similarly named A620-HDV/M.2 and A620-HDV/M.2+. Both motherboards look nearly identical, but the M.2+ version has noticeably beefed-up VRMs with better cooling (see the area to the left of the CPU socket). ASRock only rates the lower-end board for 65 W TDP processors, while the M.2+ version can handle 120 W TDP CPUs.
AMD says that more A620-based boards are coming from the usual suspects—ASRock, Asus, Gigabyte, MSI, and Biostar are all planning to release a range of A620 motherboard options.