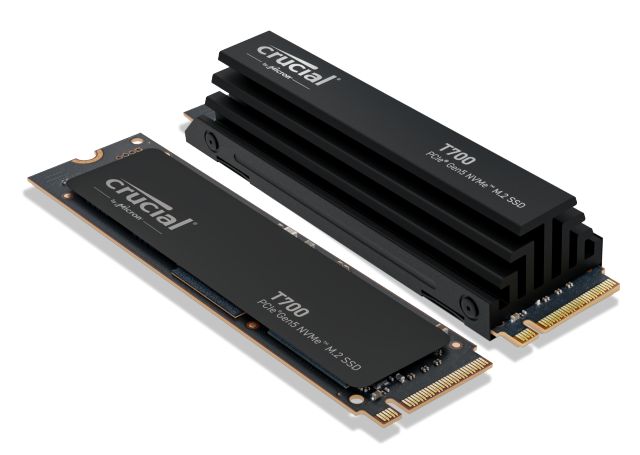 The T700's optional heatsink is installed on the right.
Crucial
It's still not a good time to buy a PCIe 5.0 SSD. With faster options, less monstrous heatsinks, and lower prices all expected to hit the market eventually, it's wise to wait if you can. Consumer-grade drives started rolling out earlier this year, and this week, reviewers shared early testing results for the Crucial T700 PCIe 5.0 x4 SSD scheduled for May. Being heralded as "the fastest consumer SSD in the world, at least for now," it gets closer to the communication bus's max potential than current options.
But we're still working with speeds under the spec's 14,000MBps theoretical max speed, a heatsink that is improved in size but still chunky, and likely high prices. Crucial hasn't shared MSRPs for the 1TB, 2TB, or 4TB capacities coming out, but we can expect them to be as large as the drive's optional heatsink.
Some caveats
Various publications this week published benchmark results for engineering samples of the 2TB T700. The performance of the final version made available to shoppers may differ. According to PCMag, Micron (which owns Crucial) expects to optimize random writes and power consumption. There are also "regulatory hurdles" and Trusted Computing Group's Opal specifications to address and firmware to finalize.
PCMag said it doesn't expect the final product's results to differ "substantially," but all results should still be taken with a grain of salt.
Specs
Like the other currently available PCIe 5.0 SSDs (if you can find them in stock)—Gigabyte's Aorus Gen5 10000, which launched at $340 for 2TB, and Inland's TD510, which launched at $400 for 2TB but is currently available for $280—the upcoming T700 uses Phison's E26 controller. Each drive features the 232-layer TLC flash memory that Micron announced in May.
Crucial specs the drive with up to 12,400MBps sequential reads and 11,800 sequential writes. PCIe 5.0 is expected to bring SSDs with max theoretical read speeds of 14,000MBps. With Gigabyte and Micro Center Inland's PCIe 5.0 SSD specs maxing out at 10,000MBps reads and 9,500MBps writes, the T700 looks like it will be the fastest consumer SSD. But as drives leveraging other controllers, heatsinks, and/or NAND chips come out, the title will surely be usurped.
According to Tom's Hardware, the T700's endurance is rated for up to 600TB (1TB capacity), 1,200TB (2TB), or 2,400TB (4TB) written. It also said the drive will feature "1.5 / 1.5 million IOPS in random read/write workloads with the 2TB and larger models," noting "the 1TB model is slightly slower."
Fastest PCIe 5.0 SSD... so far
There are only two PCIe 5.0 consumer SSDs to compare it to, but PCMag said the T700 engineering sample posted "the highest sequential read and write scores we've ever seen from a single internal drive, and outpac[ed] the Aorus—generally by a small margin—on nearly every other test."
Tom's Hardware, meanwhile, reported up to 12.4GBps sequential read throughput and 1.5 million random IOPS, saying that's "70 percent faster than today's highest-end PCIe 4.0 SSDs and 20 percent faster than the current crop of PCIe 5.0 drives." The drive reportedly picks up speed by using faster flash (2,000 MTps I/O speed compared to the controller's max support for 2,400 MTps).
"Impressively, it delivers this level of performance with passive cooling thanks to its well-designed heatsink, but if you remove the heatsink, the SSD will also work well in motherboards with proper M.2 heatsink coverage," Tom's Hardware noted.