As per the sales figure available for the German retailer Mindfactory, AMD Ryzen 7 7800X3D is the best-selling CPU this week, leaving behind the previous-gen Ryzen 7 5800X3D.
Few days ago, AMD Ryzen 7 7800X3D was released with great reviews. This is because the CPU comes with a 3D V-Cache technology, which adds an extra layer of 64 MB cache on top an existing 32 MB cache. Taking the total L3 CPU cache to 96 MB.
This relatively huge cache increase gives the processor a massive boost in cache intensive tasks, such as gaming. In-fact, so impressive is the boost, that AMD Ryzen 7 7800X3D is possibly the best gaming CPU ever made. It has almost same or better performance than the higher priced AMD Ryzen 9 7950X3D and Intel Core i9-13900K processors. This while consuming half the power while being cheaper too.
Everyone was waiting for Ryzen 7 7800X3D to release from some time now. The reviews weren't disappointing either. So when the processor got released, everyone expected it to sell a lot. What we didn't expect is it to sell so much.
Best Seller In Germany
Whenever we want to see how a CPU or a GPU is doing in terms of sale figures, one needs to look at the German retailer Mindfactory. Mindfactory is a big computer hardware seller in the European country. What it, however, is best known for, is that it shares it's weekly sales report with its associates. This data then gets available to the public.
In a by tweet by @TechEpiphany, who regularly shares this data about CPU, GPU and others, has shared the sale figures for the top CPUs sold at Mindfactory in the previous week. The results are somewhat surprising.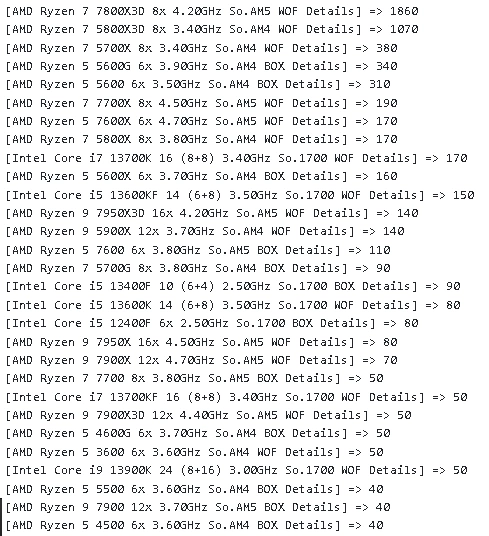 In the week when AMD Ryzen 7 7800X3D was just launched, it has become the best-selling CPU in Mindfactory in Germany.
In that time period, 1860 units of AMD Ryzen 7 7800X3D CPU were sold. The next in the list was the previous generation X3D processor, the AMD Ryzen 7 5800X3D, with 1070 units sold. With the AMD Ryzen 7 5700X is the third in the list with 380 units sold.
It's important to mention that Intel is way behind in the list. At tenth position, Intel's bestseller is the Core i7-13700K, with just 170 units sold. While it's true that i7-13700K is a great processor which provides a great value and can stand on its own against the more powerful and expensive processors. The problem is the numbers, where 1000+ units sold for AMD's top processor and where 100+ units sold for Intel's one.
Not to forget, TechEpiphany's tweet also reveals that overall, AMD is having 83% market-share and 85% revenue compared to Intel's 17% and 15% respectively during the same period.
Conclusion
Mindfactory is a big German retailer. But it doesn't represent the whole of Europe or the world. For example, the AMD Ryzen 7 5800X3D is the top-selling processor at Mindfactory from almost a year. The Ryzen 5800X3D, which no matter how great, is not cheap.
So it's quite possible that people from poorer countries might not buy the $449 CPUs and might prefer the sub-$200 or sub-$300 ones instead. So Intel might be doing nicely in other countries. But this revelation gives us a fair idea of where things stand.
Another thing which is important is that AMD Ryzen 7 5800X3D remains one of the top seller too. This because it has become cheaper than the original MSRP and even a good quality previous-gen AMD AM4 motherboard is cheaper and easier to find than a good quality current-gen AMD AM5 motherboard which AMD Ryzen 7 7800X3D requires.
Not to forget, DDR5 RAM is still slightly more expensive than DDR4 RAM. However, that difference is massively reduced in recent times.
Intel on the other hand can do better. We still believe Intel will need to bring a stacked 3D cache version of its own if it wants to have a good fight against AMD in the top CPU sales everywhere.