Windows 11 was announced back in 2021 and has had its fair share of praises and criticisms directed at it for the various changes it introduced (particularly controversial hardware restrictions introduced due to security reasons). I should know, I have extensively written about lots of Windows 11 features that I hate and those that I love, along with several Closer Look pieces that dived into the implementation and UX of specific capabilities present in the OS.
However, for the past year or so, rumors about Windows "12" have surfaced, claiming that Microsoft is going back to its three-year release cycle and plans on releasing its next major OS in late 2024, which isn't really that far away. In the past few weeks alone, we have seen multiple indications of what changes this purported version of Windows could feature, including tighter Cloud PC integration, stronger focus on AI-powered capabilities, and an emphasis on modularity.
However, while all of that sounds really fascinating and futuristic, I feel that it is important to understand that if Windows 12 does release in 2024, it would have been barely three years since the initial release of Windows 11. What this means is that consumers shouldn't expect radical changes in Windows, either design-wise or with respect to new features.
In fact, when it comes to the aesthetics of Windows 12, we have already seen a purported prototype of the OS, and it's not vastly different than Windows 11. And that's completely fine and understandable. There is no point in re-inventing the wheel every three years. Windows 11 introduced somewhat major changes to the UI and UX of Windows, but this was six years after the release of Windows 10. A major change was due in 2021, it shouldn't be expected in 2024.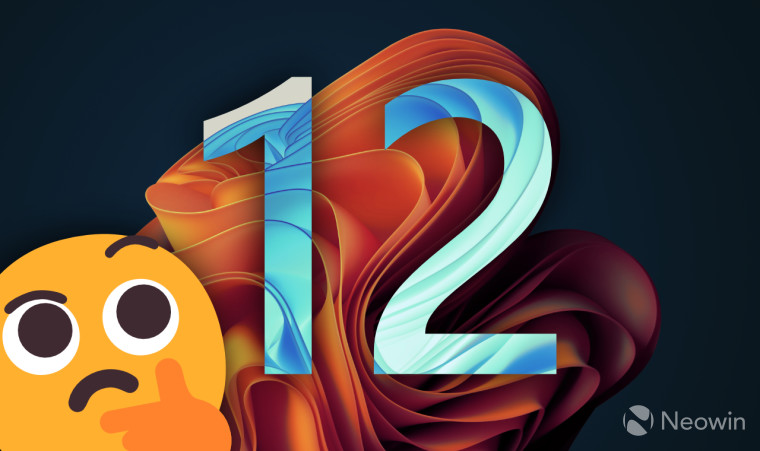 I feel like it's important to temper expectations. Based on the comments I've seen from our readers on Neowin as well as many users on social media, there is a significant portion of Windows customers who believe that Windows 11 was a colossal failure and Windows 12 is going to fix this "mess".
I know some of my critics here think that I hate Windows 11 and can't let go of any opportunity to complain. That couldn't be further from the truth. Windows 11 is a solid 7/10 OS in my book (which is also close to the review score I gave it on release day) and yes, I do call out its limitations because I think they can grab Microsoft's attention with the support of our readers and propel the company to fix issues faster, but I also praise the OS when I find something noteworthy.
The point I'm trying to emphasize is that Windows 11 is just fine. It doesn't need a radical overhaul and I'm fairly confident that Microsoft isn't planning one either. In fact, some alleged system requirements for Windows 12 have indicated that hardware restrictions are going to be similar to Windows 11.
Of course, that doesn't mean that Windows 12 isn't going to be exciting. If Microsoft's recent investments and innovation in AI and Cloud PCs is anything to go by, we should expect AI copilots and cloud-powered mechanisms sprinkled throughout the UX.
However, I do believe that Windows 12 should be anticipated and treated as an incremental upgrade to Windows 11, especially if it arrives next year. Windows 11 has great enhancements and various issues, and Windows 12 will likely be more of the same. Microsoft will continue making incremental enhancements (and even potentially bad decisions) through its Windows Insider Program just as it has been doing right now, and people will find stuff to complain about, or conversely, praise. To summarize with a modification of the meme-worthy iconic line from Disney's WandaVision: But what is Windows 12, if not Windows 11 persevering?
---
What are your expectations from Windows 12? Do you believe that it's going to be a radical overhaul of Windows 11 or do you think it's going to be more of an incremental upgrade? Let us know your thoughts in the comments section below!