Extreme temperatures described as 'worst April heatwave in Asian history' as records threatened in India, China, Thailand and Laos
A severe heatwave has swept across much of Asia, causing deaths and school closures in India and record-breaking temperatures in China.
Maximiliano Herrera, a climatologist and weather historian, described the unusually high temperatures as the "worst April heatwave in Asian history".
In China, local media reported that record temperatures for April had been observed in many locations, including Chengdu, Zhejiang, Nanjing, Hangzhou and other areas of the Yangtze River delta region.
Unusually hot temperatures have also been reported in south-east Asia in recent days, including in Luang Prabang, Laos, which recorded 42.7C this week, the highest reliable temperature in its history, according to Herrera. Vientiane also recorded 41.4C, the hottest day ever for the capital, on Saturday. In Thailand, a government monitoring station in Tak in the north-west of the country recorded 45.4C on Saturday, breaking the previous high of 44.6C reached in Mae Hong Son on 28 April 2016. The record was not included in the government's official summary statistics, however, which reported the temperature in Tak as 44.6C.
In Bangladesh, a country at the forefront of the climate crisis, temperatures soared above 40C in the capital, Dhaka, on Saturday, the hottest day in 58 years, causing road surfaces to melt. An official from the ministry of environment, forests and climate change said that if the heat did not abate, they would declare a temperature emergency in certain areas.
In recent years, India has become particularly vulnerable to extreme heat, and experts fear this year could be even worse. The April heatwave has battered some Indian states, with the meteorological department this week issuing an orange warning of a severe heatwave in parts of Bihar, Jharkhand, Odisha, Andhra Pradesh and West Bengal, all states with a high proportion of rural workers and labourers who are forced to work outside even as temperatures and humidity soar.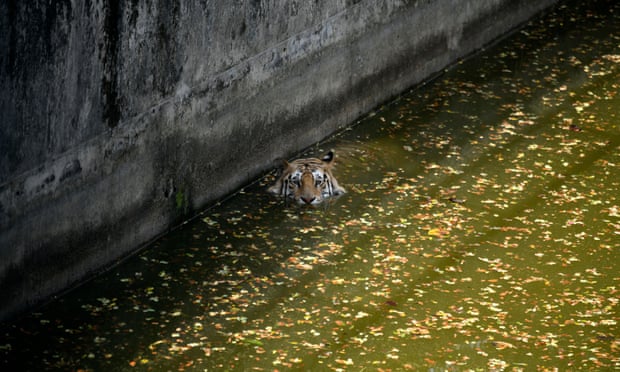 A Royal Bengal tiger swims during a heatwave at Bangladesh national zoo in Dhaka.
Photograph: Syed Mahamudur Rahman/NurPhoto/Shutterstock
Six cities in north and east India recorded temperatures above 44C while the capital, Delhi, recorded 40.4C on Tuesday. The heatwave is expected to continue until at least Friday.
The India Meteorological Department said on Tuesday: "Heatwave conditions are likely to continue over West Bengal and parts of Bihar for next four days. Accordingly, we have issued an orange alert for the region in view of humidity and high temperatures. People should take precautionary measures. The region is likely to see thunderstorm activity from day five when heatwave conditions may abate."
The high temperatures in India have prompted school closures in some states, while 13 people died and a further eight received medical treatment due to sunstroke after an award event that was held outdoors in Maharashtra state.
    (2) Asian Heat Wave/More records
    MYANMAR
    45.0C Nyaung-U/Bagan ties its hottest April day on records
    44.0C Shwebo all time record tied
    44.0C Kalewa monthly record tied
    LAOS
    41.6C Sayabouri all time record
    34.5C Pong Sa Ly all time record tied
    38.7C Oudomxay monthly record
    tbc pic.twitter.com/fIPE5d3apk

    — Extreme Temperatures Around The World (@extremetemps) April 19, 2023
West Bengal's chief minister, Mamata Banerjee, closed all schools in the state this week due to concerns over the severe heat, and urged private education institutions to take the same measures. Children had experienced health problems such as headaches due to the heat, she said, according to local media.
Schools have also been closed this week in Tripura and Odisha, while in Delhi schools will no longer conduct afternoon assemblies.
The unusually hot weather has also prompted health warnings in Thailand, where the health department warned of the risk of heatstroke, especially for people who exercise or work for long hours outside, such as construction workers and farmers.
There are fears that the high temperatures could continue in Thailand beyond the usual summer months, causing drought and potential crop failure.
"Hundreds of stations across more than a dozen countries are pulverising records", said Herrera. They include Kalewa in north-west Myanmar, which hit 44C, a record for April, and Son La in north-west Vietnam, which reached 38C, a record for any month.
Temperatures rose above 30C in Japan, with Minamata in Kumamoto prefecture reaching 30.2C, an April record for the area. Highly unusual temperatures for this month have also been recorded in central Asia, including in Kazakhstan, where 33.6C was recorded at Taraz, a record for April, and in Turkmenistan and Uzbekistan.