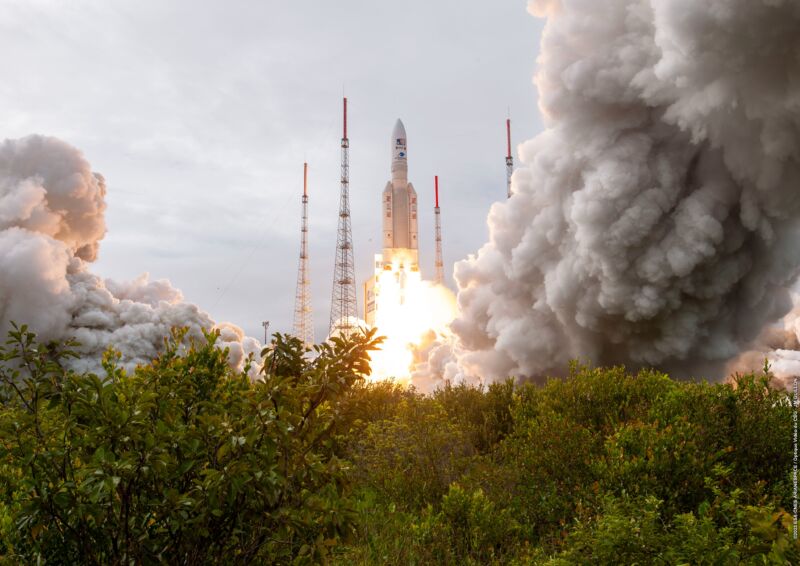 Liftoff of the Juice spacecraft on an Ariane 5 rocket.
ESA
10:00 am ET Friday: After a one-day delay due to lightning, an Ariane 5 rocket successfully lifted off from French Guiana on Friday morning carrying the Juice spacecraft. About 40 minutes after the launch, the European Space Agency successfully took control of the spacecraft after it separated from the rocket's upper stage.
Although a critical one, this is but the first step on a long journey into space for the probe, which will spend the next eight years reaching Jupiter. But with a healthy spacecraft and a good trajectory, this is the best possible start European scientists could have hoped for.
Original post: As soon as Thursday morning, the European Space Agency will launch a large probe to Jupiter to study some of the giant planet's most intriguing moons.
With a mass of 6 metric tons, the Jupiter Ice Moons Explorer—or JUICE—is the largest deep space mission launched by the European Space Agency and one of the largest by any nation to the outer planets. The spacecraft is scheduled to launch on an Ariane 5 rocket at 8:15 am ET (12:15 UTC) from Kourou, French Guiana. It will be broadcast live on ESA Web TV.
The European Space Agency performed high-profile science missions before, including the audacious landing of the Rosetta spacecraft on a comet in 2014 that garnered worldwide attention. Europe also built the Huygens lander that flew aboard NASA's Cassini spacecraft to Saturn and then landed on the moon Titan.
But JUICE, which has cost about 1.5 billion euro, is the first of the agency's L-class missions, which are intended to be flagships for the space agency and will only fly about once a decade. Notably, the mission was selected by the European Space Agency in 2012, and it only missed its original targeted launch date by one year. The spacecraft was built by Airbus Defense & Space.
Europe decided to fly the mission after NASA's Galileo and Cassini probes discovered that some of the moons around Jupiter and Saturn were covered in ice and likely harbored large, subsurface oceans where microbial life might exist.
"The next logical step was really to get back to Jupiter with improved instrumentation to study those oceans in detail," said Nicolas Altobelli, a planetary scientist at the European Space Agency involved with the JUICE mission. "And with this in mind, we wanted to see if these were possible habitats for life."
Because the spacecraft is so massive, it will require several planetary flybys to build up the energy to reach the Jovian system. After its launch, JUICE will fly by Earth three times, as well as Venus, before entering orbit around Jupiter in 2031. Then, from 2031 through 2034, it will make nearly three dozen flybys of Ganymede, Europa, and Callisto, exploring their icy shells in greater detail.
JUICE will drop down to within 200 km of some of these worlds, giving us by far our best look yet at them. Among its instruments are a high-resolution optical camera named Janus, a spectrometer, an ice-penetrating radar, a magnetometer, and more. If everything on board the spacecraft works as designed, it should deliver some dynamite science. And the mission has many scientific goals, including understanding the formation of Jupiter's moons and how they have changed to become different from one another.
The European spacecraft will also be flying a complementary mission to NASA's Europa Clipper vehicle, which is due to launch in 2024. They will carry different instruments and, combined, perform a comprehensive study of the habitability of the subsurface oceans of the outer planet worlds. Their results might point to a promising location to one day send a lander for further investigation and a possible search for life.
After many orbits around Jupiter, in late 2034, Juice is planned to enter orbit around Ganymede, where it will stay for another year. This will be a delicate maneuver, as no spacecraft has ever gone into orbit around a moon other than our own Moon.
"This is definitely a first, and is a very complex navigation," Altobelli said. "But Ganymede is a really interesting moon. It has its own magnetic field, and we suspect from Galileo data that it has an interior ocean. We hope to carry out the most detailed analysis of the interior of a moon that has ever been done."